Denkendorf, November 10th 2023 – The approved investment project of pepper motion GmbH and its industrial partners with the state government of Andhra Pradesh sets new international standards. The plan is to build a fully integrated vertical production facility, similar to Tesla, for the conversion of diesel buses and trucks as well as the construction of new vehicles, including battery production of up to 20 GWh. Both battery electric drives and pepper's fuel cell-based drive system, which was recently launched in an initial small series, are to be used. There are also plans to develop and offer a corresponding charging infrastructure with other established technology partners such as chargebyte. The investment project, including all planned expansion stages, has a total volume of around 600 million US dollars. Commissioning of the conversion and vehicle production facilities is planned for early 2025 at the earliest. The plan is to produce more than 50,000 electric buses and trucks per year from 2027 and to market components for the electric drive of commercial vehicles internationally. The official kick-off for the cooperation will be the ceremony to mark the presentation of the investment permit for the construction of the production facilities in Andhra Pradesh at the end of November 2023.
The Indian government is currently creating a favorable environment for the consistent development of the New Mobility & New Energy sectors and has set itself ambitious decarbonization targets. Its strategy towards zero-emission commercial vehicle transportation offers pepper a great opportunity to successfully establish itself as a leading technology supplier in the Indian market. "The existing port and industrial infrastructure, and the innovation-driven, progressive economic policies of the state of Andhra Pradesh offer us excellent opportunities and we are especially grateful to Hon'ble Chief Minister YS Jagan Mohan Reddy for his great commitment and trust in pepper", Andreas Hager, Managing Director and CEO of pepper motion GmbH, emphasizes the dimension of the agreement.
Interest from Indian state transport corporations, private fleet operators and the commercial vehicle industry including e-Commerce, supply chain and courier companies for electrifying their fleets has been very high in discussions with pepper as the technology leader for universal electric drive systems. The degree of innovation and modularity of pepper's drive systems are highly convincing and enable future-proof solutions in the bus and truck sectors – open to all technologies and flexibly adaptable to the Indian market as required. The willingness of the main players in the Indian commercial vehicle sector to transform towards an emission-free transport sector is immense. Both manufacturers and large fleet operators will rely on pepper's drive technology in the future, when converting to battery electric vehicles and building new buses and trucks.
India is one of the largest and still rapidly growing markets for buses and commercial vehicles, which is already more than twice as large as the complete European. A large number of diesel vehicles already installed are predestined for sustainable, resource-saving, and cost-efficient conversion. The local pool of skilled engineers and know-how available in the country creates ideal conditions for economic growth and the dynamic expansion of activities both domestically and internationally.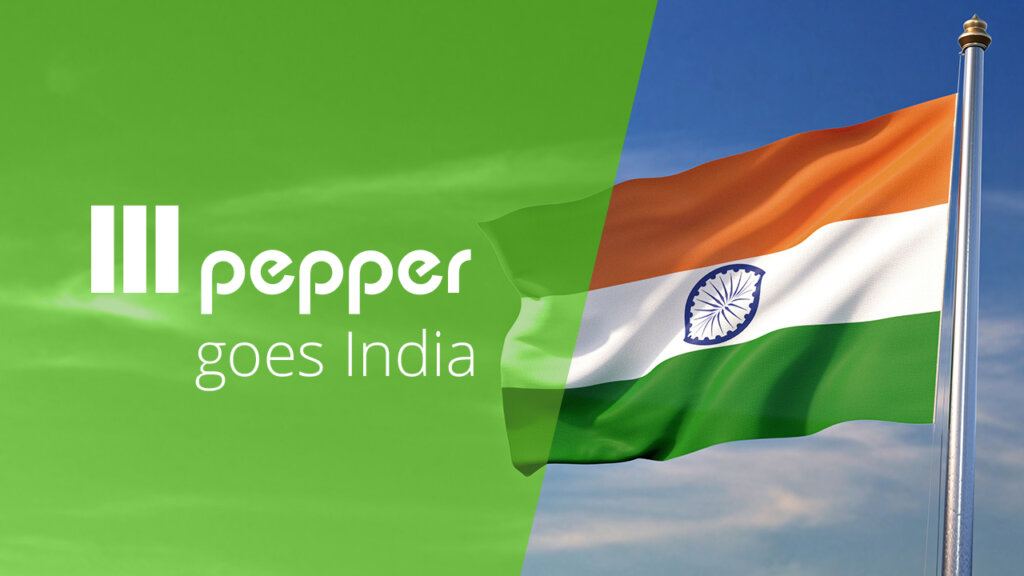 About pepper motion GmbH:
pepper – electrifying transportation!
pepper electrifies – Innovative modular drive solutions for used and new commercial vehicles (buses, trucks, special vehicles). As a system supplier and strategic partner in development for manufacturers, retrofitters and special vehicle builders, the company offers key technology for the electrification of trucks, buses and special vehicles for the sustainable mobility transformation.
Both existing fleets and new commercial vehicle series can be electrified quickly, cost-effectively and flexibly with the pepper kits and thus make an active contribution to reducing emissions in traffic and implementing the Clean Vehicles Directive. pepper is certified to ISO 9001 and guarantees operational safety in accordance with international automotive industry standards such as functional safety ISO 26262.
pepper motion GmbH employs around 100 people and is headquartered in Denkendorf/Bavaria, with offices in Garching near Munich and Paderborn. The subsidiary pepper motion Austria GmbH, based in Vienna, is the pepper Group's software development center. pepper is represented by sales partners in France, Italy, and Poland.
Press contact:
360°communications GmbH
E-mail: peppermotion@360communications.de
Tel.: +49 89 5436994 00