Emission-free passenger transport is not only a question of environmental protection but also of economic sense. In addition to cleaner air and less noise, an electric bus also ensures flexibility regarding fossil fuels.
The most sustainable way towards electromobility is undoubtedly repowering. Our etrofit kit gives buses with retired diesel engines a second life. We can either supply you with fully converted vehicles or repower your existing diesel vehicles for you.
Repowering – for a better future.
Why repower? Why pepper?
Sustainability
Resource-saving
Second Life
CO2 savings
Economy
Cheaper than buying a new one
Lower operating and maintenance costs, lowest TCO
Term extension
Availability
Fast delivery capability for selected models
Short development cycles
Fast implementation
Safety
Standards (e.g. ISO 26262)
TÜV Certification
Criteria catalogue of the Federal Ministry of Transport and Digital Infrastructure
Project sequence
The process phases of the conversion
1. Analysis
Analysis of the vehicles to be converted for technical characteristics, TÜV inspection reports, analysis of subsequent requirements such as route lengths, route profiles, round-trip times, charging points, etc.
2. Planning
Detailed specification in terms of range, battery capacity, drivetrain, air-conditioning, and optional charging concept
3. Conversion
Conversion and commissioning of the vehicle in a partner workshop including TÜV vehicle approval
4. Operation
Support and advice during recommissioning with awareness training for workshop staff and planning of the necessary charging infrastructure
The pepper etrofit kit
Our conversion kit to electric drive includes the following components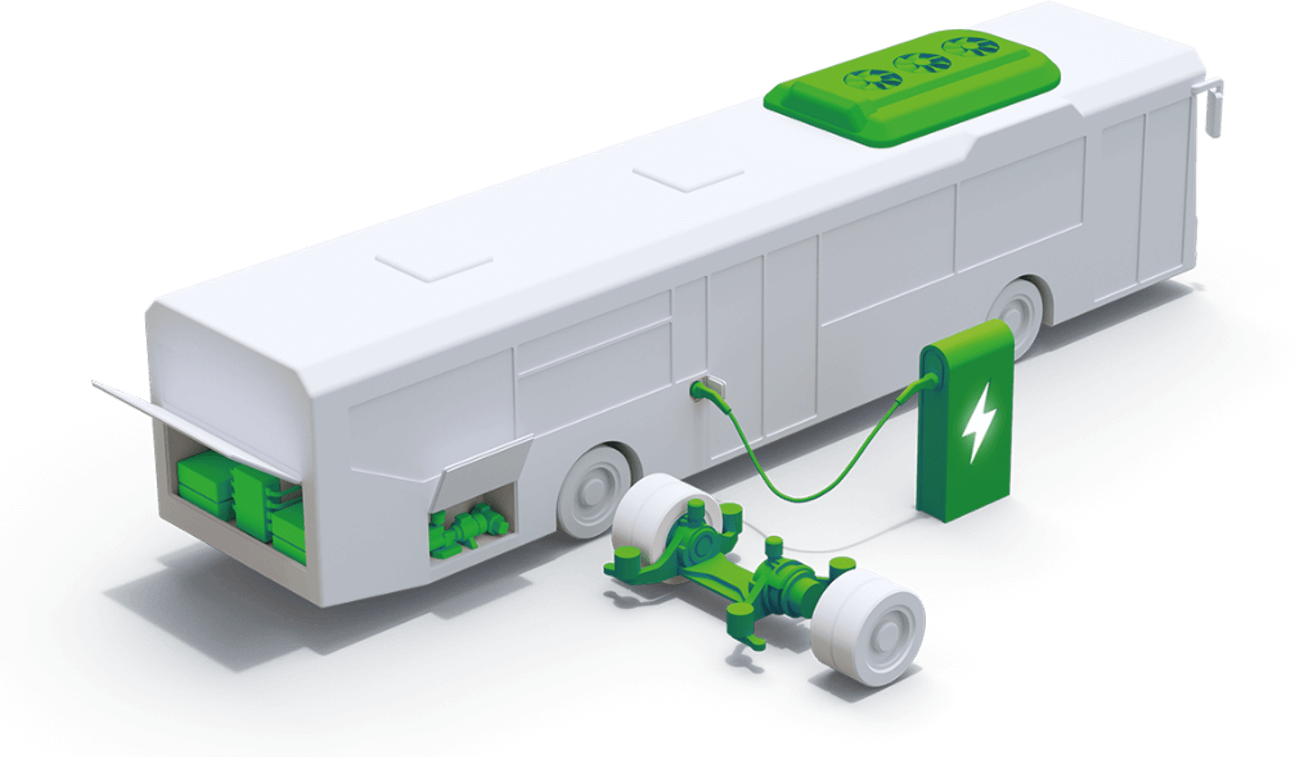 Modular battery system
pepper has developed a modular lithium-ion battery module based on NMC (nickel-manganese-cobalt). The individual module has a capacity of 60kWh, several of these modules can be connected in parallel to achieve the desired capacity. The battery modules are installed in the former engine compartment (additional capacity can be installed on the roof, if necessary).
Auxiliary units
All auxiliary components previously driven by the combustion engine (such as air conditioning, air compressor, pumps etc.) are removed and replaced by electrically powered components. An efficient control system, which takes over the interaction of these components, guarantees the most energy-efficient operation possible.
Powertrain
Diesel engine, gearbox and drive axle are removed and an electric drive axle is installed. For city buses, we use an electric low-floor portal axle by ZF (AVE130). This axle relies on the concept of the integrated close-to-the-wheel drive with two liquid-cooled asynchronous motors.
Charging infrastructure
The product portfolio of pepper includes chargers and charging stations with charging capacities of up to 150 kW. As standard you can obtain the following charging solutions from us:
mobile charging station 44 kW
stationary charging station 75 kW
quick charging station 150 kW
In addition to this offer pepper also offers the possibility to project and provide a charging infrastructure adapted to your needs.
Vehicle Control Unit
The vehicle control unit (VCU) is the heart of our vehicles, a system software architecture for controlling the entire vehicle reliably. An additional display is installed at the driver's seat, which provides the driver with information on the vehicle status, charge status and any errors.
Heating and air conditioning
To ensure efficient operation a combination of ancillary components such as a heat pump and if needed a hybrid auxiliary heater are in use for heating and air-conditioning.
Telematics unit
All our vehicles are equipped with telematics units for optional services such as over-the-air updates, predictive maintenance, vehicle tracking, fleet management, etc., and – in the future – autonomous driving.
HMI-display
An additional display is installed for the driver, which provides information on the vehicle status, range, battery and charging status, and other important system messages. Feel free to give it a go right here!
Available vehicles
pepper offers repowering for the most common city bus models
Contact us
If you would like to learn more about our repowering solutions or are already concretely interested, please send us a message via our contact form! We will get back to you as soon as possible.