The climate targets have been set and CO2 emissions must be drastically reduced. Freight transport has a significant role and has to adapt.
Electromobility is very promising to reach zero-emission in freight transport, also in the truck sector. The first thought usually goes to new vehicles, and this is where we come in.
The conversion solutions from pepper are not only more sustainable, but also considerably more economical than the purchase of a new vehicle. We offer ready converted trucks as well as the conversion of existing vehicles.
Switch from diesel to electric. Make yourself independent from fossil fuels. Take the more environmentally friendly and economically sensible route.
Why retrofit? Why pepper?
Sustainability
Resource-saving
Second Life
CO2 savings
Economy
Cheaper than buying a new one
Lower operating and maintenance costs, lowest TCO
Term extension
Availability
Fast delivery capability for selected models
Short development cycles
Fast implementation
Safety
Standards (e.g. ISO 26262)
TÜV Certification
Criteria catalogue of the Federal Ministry of Transport and Digital Infrastructure
Project sequence
The process phases of the conversion
1. Analysis
Analysis of the vehicles to be converted for technical characteristics, TÜV inspection reports, analysis of subsequent requirements such as route lengths, route profiles, round-trip times, charging points, etc.
2. Planning
Detailed specification in terms of range, battery capacity, drivetrain, air-conditioning, and optional charging concept
3. Conversion
Conversion and commissioning of the vehicle in a partner workshop including TÜV vehicle approval
4. Operation
Support and advice during recommissioning with awareness training for workshop staff and planning of the necessary charging infrastructure
The pepper etrofit kit
Our conversion kit to electric drive includes the following components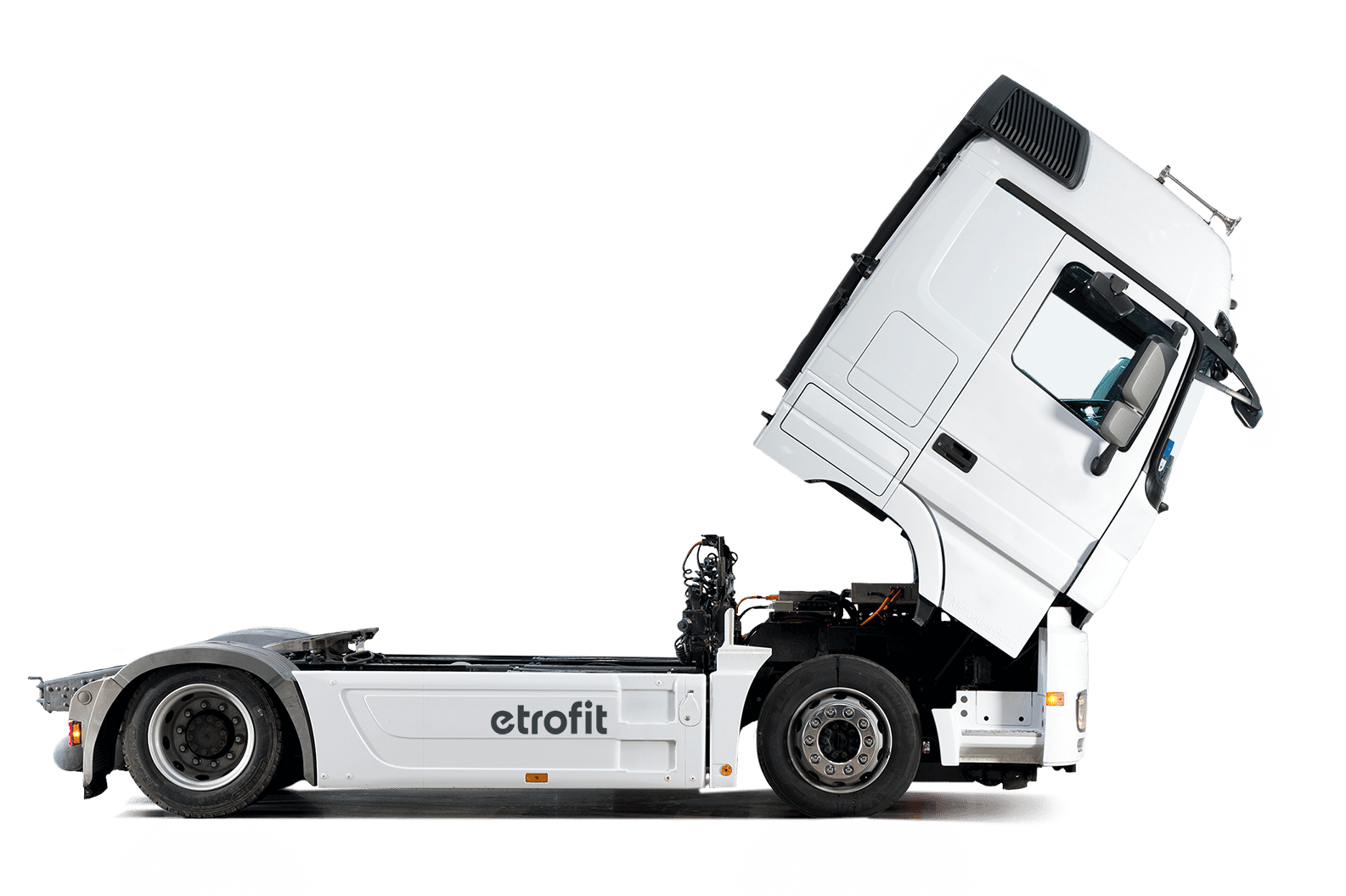 Electric Drive Train
Depending on the vehicle, different types of electric motors can be used, our portfolio of electric drive trains is growing steadily. The unit shown is the ZF CeTrax electric engine, an asynchronous motor, which is currently part of the pepper conversion kit for the Mercedes Benz Actros MP3 truck. It weighs approx. 285 kg and has a peak power of 300 kW and 4.500 Nm peak output torque.
Battery
The pepper modular drive system uses a lithium-ion battery based on NMC technology (Nickel-Manganese-Cobalt). It comes in units of 60 kWh each, two of which can be seen on display. Minimum configuration is 120 kWh, scalable up to 720 kWh, depending on the vehicle and operation purpose. To charge a 240 kWh battery from 8% to 80% takes approx. 70mins, using a 150 kW charger.
HMI (Human Machine Interface)
An additional display is installed for the driver, which provides information on the vehicle status, range, battery and charging status, and other important system messages.
Telematics Unit
Thanks to system-wide integration of the telematics unit used, a wide range of different data can be tracked. The current functions include vehicle tracking, online diagnosis, and the capture of live data about the vehicle state. Furthermore, over-the-air software updates will be available. Thanks to predictive analytical software from pepper's technology partner TWAICE, the use of a digital battery twin increases the service life, efficiency, and sustainability of the batteries in use. Further useful value-added services for the digitalization of fleet management are already in development.
Vehicle Control Unit
The VCU is the core element of pepper's modular drive system. It integrates and controls all system components on a logical as well as functional level. The software is developed in-house and complies with the automotive industry's highest standard for functional safety (ISO 26262). The pepper VCU easily allows the modular drive system to fit in all sorts of vehicles from different manufacturers.
Battery Junction Box
The BJB is pepper's own development and serves as a "high voltage fuse box". It is connected to battery (and optional fuel cell) and is being controlled by the VCU. Furthermore, the BJB is constantly monitoring the battery insulation and is crucial in case of an emergency if the system needs to be quickly discharged.
Available vehicles
pepper offers repowering for selected truck models
Contact us
If you would like to learn more about our repowering solutions or are already concretely interested, please send us a message via our contact form! We will get back to you as soon as possible.